Trailblazer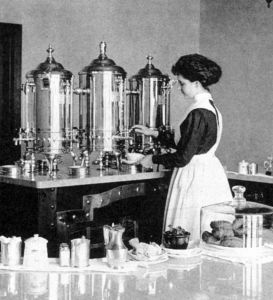 Grace Rogers is ready for the adventure of a lifetime. With her family's farm falling on hard times, she accepts a position with the prestigious Fred Harvey Company and heads for Juniper, New Mexico. There she meets a handsome cowboy who quickly turns her head. Too bad Harvey Girls are forbidden to marry….
Nick Hopkins has a plan: buy a little land, marry, ad raise a family—in that order. But after meeting Grace, he can't keep away. Their only choice is to marry in secret…but Nick isn't the only man entranced by Grace's charms, and this unexpected rival doesn't plan on taking no for an answer. He will have her no matter the cost: to Grace, to Juniper, or to the happily ever after Grace and Nick fought so hard to make their own.
TRAILBLAZER:
Schmidt (the Last Chance Cowboys series) builds this middling romantic western around strong and plucky farm girl Grace Rogers, who travels to New Mexico to become a Harvey Girl, one of the first waitresses of the Old West. On her way there, she meets Nick Hopkins, a handsome rancher. Harvey Girls aren't allowed to be married, and Grace wants to send money home to her family, but the promise of romance tempts her all the same. Descriptions of Grace's job are the novel's high points, and readers who have worked in restaurants will be able to connect with her plights, such as fending off rude customers and having to learn the job on the fly. Though the romantic plot has a bit of a lackluster start, it develops well. Readers may have to suspend their disbelief when the story acquires a third layer involving attempted rape and murder, and Grace's career falls somewhat by the wayside, but it's easy to identify with Grace's yearning for money, happiness, adventure, independence, and love. Easygoing western romance readers will cheer for this good-hearted heroine to achieve all her dreams. Agent: Natasha Kern, Natasha Kern Literary. (Jan.)
Schmidt brings the Wild West to life with her newest series Cowboys & Harvey Girls.
Schmidt brings the Wild West to life in her new Cowboys & Harvey Girls series. Readers will join Grace Rogers as she embarks on a great adventure, leaving her family behind in Missouri, to start a new life with the esteemed Fred Harvey Company. As a Harvey Girl, Grace is expected to be a stalwart example of respectability and innocence — certainly not the sort of woman who would get involved with a cowboy. While traveling to her new post in Juniper, New Mexico, Grace meets a charming, handsome stranger on the train who might derail her carefully laid plans. Nick Hopkins is living his dream as a foreman on a successful ranch when he and Grace meet. The two quickly become friends and maybe something more until the local high-powered attorney, Mr. Perkins, sets his sights on Grace. Will Perkins' lust destroy the future happiness of Grace and Nick? Schmidt's engaging historical romance will have readers asking for more. This is a perfect story for fans of Mary Connealy and Margaret Brownley.
This is a very new author to me and I must say I will defiantly be checking out her others books after reading this lovely historical romance. I found the writing style to be great with the story flowing well to keep me interested and glued to each chapter. Four Stars
An emotional, engaging romance – a great start to a new series I had fun with this story. A loving couple, one nasty villain, new adventures, danger to be faced and true love to be found. What's not to enjoy about all that? If you love Western Historical Romance then you'll want to get started on this new series. I would not hesitate to recommend it, you'll find interesting characters, intriguing situations, and an enjoyable story. Four Stars. Read more…
Anna Schmidt is a new to me author and I can't wait to read more not only in the Cowboys & Harvey Girls series but many of her other books too! I'm looking forward to reading Renegade and catching up with the Harvey Girls and the other characters we've met. Four Stars.
Grace and Nick are partners in the best sense of the term, and the wild west is brought vividly to life in this sweet, but still quite sexy, American historical. Five Stars.
Easygoing western romance readers will cheer for this good-hearted heroine to achieve all her dreams.
Anna Schmidt never fails at delivering a knock out read that simply captivates.
"Trailblazer" begins Anna Schmidt's new series, Cowboys & Harvey Girls with a delightful look into not only the Harvey Girls concept but of their life trying to maintain that concept when love comes along to change everything.
Schmidt brings the Wild West to life with her newest series Cowboys & Harvey Girls.