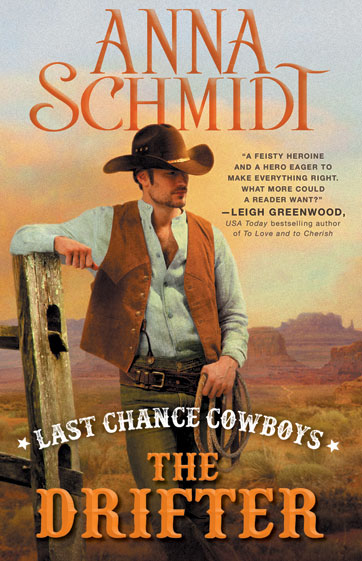 Book 1 Last Chance Cowboys
Sourcebooks Casablanca
September, 2015
The Drifter
First in a historical Western series set in the sweeping 1885 Arizona Territory, Maria is in for the fight of her life keeping a greedy corporate conglomerate off her land and drifter cowboy Chet out of her heart.
Caught between a greedy corporation and a desperate love of the land, Maria Porterfield barely has time to mourn her father's death. If her family is to survive, it'll be up to her to take charge ― but she can't do it alone. When a mysterious drifter rides into town, the handsome cowboy seems like an answer to her prayers. But Chet isn't interested in settling down, no matter how tempting the offer…
Chet made his way West looking for a fresh start ― the last thing he wants is to get involved in someone else's fight. But something about Maria awakens a powerful need to protect the fierce beauty at all costs. He never thought he'd find love, but as danger presses in, he may find there's more beyond the next horizon than just another long and dusty trail.
…long-time Western fans will enjoy this story.
Readers wanting a good old fashioned Western romance need look no further than this one. B+
I'm pretty dang excited to have found Anna Schmidt. Everything about The Drifter was just gripping and had me rooting for these two to overcome all of the odds. Definitely a satisfying read and one that has me excited for more. Schmidt definitely wowed!
The Drifter is the first novel by Ms Schmidt that I have read, and I enjoyed it a lot. Recommended for readers who enjoy classic historical western romances.