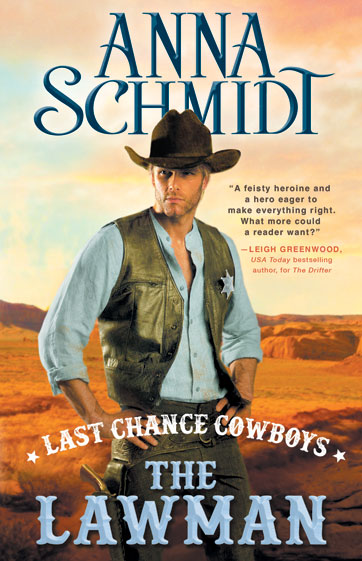 Book 2 Last Chance Cowboys
Sourcebooks Casablanca
December, 2016
The Lawman
Second in a historical Western series, set in the sweeping 1892 Arizona Territory, Jess Porterfield is in for the fight of his life to prove himself as Sheriff in the midst of a desperate land battle and earn a second chance to capture the heart of local would be doctor, Addie.
Jess Porterfield fled to the big city after his father's sudden death, leaving behind his family ranch-and his childhood sweetheart. Now Jess has returned as the local lawman, determined to prove his worth…and win back the one woman he could never live without.
Young frontier doctor Addie Wilcox was devastated when Jess left her behind. Now he's back and it's difficult to remember why she should keep her distance. But with the town's richest man set to see her hang for a crime she didn't commit, Addie must put her faith in the lawman who broke her heart-and trust that together they'll find their second chance at love.
The Lawman is a riveting, fast-paced story that blends the beauty of the land with the hardships faced by Arizonians – a perfect setting for this plot. Readers are reminded of a time when technology barely existed, weather conditions created havoc, and doctors had to endure lousy working conditions. The story's best part is the well-developed female characters. Long before the ERA, these frontier women show how they could take on roles normally reserved for men: Addie becomes her father's apprentice and wants to attend the Women's Hospital Medical College in Chicago; Amanda, Jesse's sister and Addie's best friend, uses her beauty and brains to tame the fiercest cowboys; and Maria, his other sister, takes over the running of the family ranch after convincing several other small ranchers to band together in a cooperative arrangement.
With its lovingly crafted narrative, spirited heroine, dark hero and realistic backdrop, readers will truly enjoy the third of Schmidt's Last Chance Cowboys series.
A plot twist that will leave readers speechless.