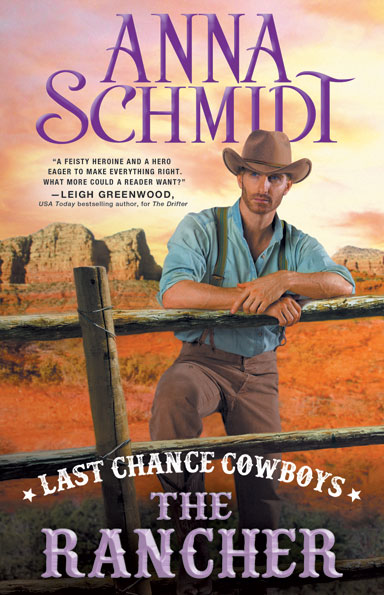 Book 4 Last Chance Cowboys
Sourcebooks Casablanca
2018
The Rancher
The world is changing, and the West isn't as wild as it used to be. Trey Porterfield welcomes a new era of law and order ― and the influx of settlers coming to the Arizona territory. But not everyone is willing to see the old ways change, and as the cattlemen and the herders take sides, a full-blown range war may be inevitable. There's only one way Trey can see to bring peace to his feuding neighbors.
Marry the enemy.
Nell Stokes is a young widow fighting just to stay alive. In Trey, she sees a chance to heal old wounds and start over. Love was never in the cards, yet as Trey and Nell fight to unite the feuding land, they'll discover a passion neither could have expected…and a danger far greater than either has ever known.
Schmidt's enjoyable fourth Last Chance Cowboys historical (after The Outlaw) has the unusual backdrop of tensions between cattle ranchers and sheep herders in the late-19th-century Arizona Territory. Beautiful and resilient Nell Stokes is doing her best to survive after unknown assailants killed her husband and left her to take care of their young son, Joshua, and run their sheep ranch alone. When nearby cattle rancher Trey Porterfield tries to befriend the young widow, she's wary of him, but Trey is unlike the other cattle ranchers Nell has met. Soon she is attracted to the handsome rancher, whose kindness is as seductive as his powerful physique. Unable to resist Nell's allure and hoping to help end the feud between the ranchers and herders, Trey asks Nell to marry him. After a too-brief period of relationship development, they make mutual declarations of love, and then Schmidt dives into nonstop action as Nell and Trey try to stop the fighting and maintain a solid marriage. Strong, well-developed characters fill the pages of this novel, which highlights both sizzling romance and the trials of the Old West.
The Where the Trail Ends series comes to a close as readers finally see Trey Porterfield find love. This tough-and-tender Americana western delivers a gritty, realistic portrait of the era when range wars were fueled by hate and only the brave were ready to fight a battle armed with their faith in love. Readers are pulled into this powerful story by Schmidt's fine storytelling, her well drawn characters and an accurate historical backdrop — the kind that makes you feel you are right there. Western fans rejoice!
…warm, satisfying, gently sexy Western historical romance.
Readers wanting a good old fashioned Western romance need look no further than this one.
The final book in the Where the Trail Ends series by Anna Schmidt is titled LAST CHANCE COWBOYS: THE RANCHER. A highly anticipated ending to the historical western romance series. It's a story that is set in the late 1890's when cattle ranchers and sheepherders are having a hard time coexisting in the Arizona Territory. The tension is at an all-time high for everyone trying to make a living.
Trey and Neil own ranches that border each other. They both are struggling to make a living and keep the peace. Neil is a strong resilient woman that manages to persevere through tough times. She is known to stand her ground and not back down. When her attraction to Trey turns serious, they decide to marry because it would be best for her son Joshua.
LAST CHANCE COWBOYS: THE RANCHER is a compelling story describing the rough and ruggedness of the American West during a time of uncertainty. Somehow a beautiful romance blossoms in the middle of the dust, dirt, and unknowns of the time. Trey and Neil are two intriguing and complex characters that are well developed. Trey is described as a dreamer, but Neil seems to be attracted to the bigger picture overall. Neil knows that together they can build a future worth fighting for.
LAST CHANCE COWBOYS: THE RANCHER is the last book in a series that is full of drama with the ups and downs of living in a time when work was hard and the pay was little to none. A time where dreamers were few and far between. A time when working with your hands meant providing for your family. It's a story that is full of raw emotion and hopes for a better life. This adventure was an eye- opening read that shows a slice of history and a loving family grow. A truly enlightening read.